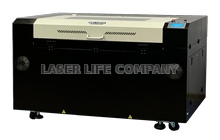 EBF-130100-60 ~ 100W CO2 Features & Benefits: 1. Sealed Time-Belt Axes with AC Servo Motors : Provide stable and accurate engraving cutting performance. 2. Aluminum Board Working Table : Offer good flatness and easy for fixing objects and jigs. 3. Accurate Focus Module with Auto-Focusing : Save your time to do laser focusing and easy to change focusing lens. 4. 4.7" mono Touch Panel : User-friendly multi-language HMI, much easier interface for operations. 5. Motorized Working Table : Provide up to 300mm Z axis stroke for processing thick material, and doing pass through for object thickness < 50mm. 6. Fast Engraving Speed : Provide up to 2032mm/sec, 2G accurate engraving speed. For getting the catalog of this machine (60W/80W/100W), please link to: EBF-130100-CW RF lasers-2019-0704.pdf
More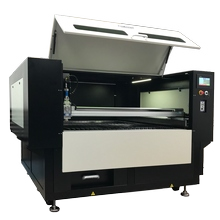 CLB-126128-150 ~ 450W Fiber Features & Benefits: 1.Size, Safety & Ability:Small size Class I safety protection. 2.Precise material height auto focus head completly sealed beam protects lens from contaminants & coaxial assist gas. 3.EZLASER CAD/CAM software suits to all PC or laptop for detail parameters setting familiar for all end users. 4.High accurate Linear Servo Motor X, Y axes with linear scales provide 1um resolution to get fast, fine & accurate cutting edge. 5.Big LCD Touch Panel: 7 inches big LCD touch panel for convenient operation. 6.Motorized Auto Focus Module: Precisely electrical auto focus lens unit for fast and precise metal sheet cutting. 7.Easy Maintenance Design: Easy open side covers and modular design make maintenance faster and easier. 8.Minimum Machine Frame Design:Compact frame design minimizes the machine footprint. 9.High pressure assist gas auxiliary cutting. CLB fiber laser cutting machine installs Precitec focus head and IPG fiber laser. The 450W model can cut stainless steel and aluminum sheet up to 6mm in thickness. For getting the catalog of this machine, please link to: CLB-126128 Fiber lasers - 2019-0514.pdf
More
About Us
Laser Life Company (LLC) was established in 1994, is a leading company of industrial grade CO2/Fiber laser processing machines in Taiwan. We engage in CO2/FIBER laser machines for cutting, engraving and marking, and constantly keep evolutionary going of superb products range until today.

With the knowledge, experience and good local supply, we devote in research, manufacturing and sale of easy approach, high quality and outstanding laser processing machines with brand EZLASER to stay competitive with major brands in the laser field worldwide.

Since 1996, the first CO2 laser cutting system was released by LLC, we had successfully expanded both domestic and global market. LLC has not only built the reputation of outstanding product quality, but also made EZLASER systems a top brand of good reliabilty in the application fields.

AWARD AND INTERNATIONAL CERTIFICATE

◎ ISO 9001:2000, TAIWAN.
◎ OUTSTANDING PHOTONICS PRODUCT AWARD 2005, TAIWAN.
◎ CDRH Class I
◎ CE MARKING
◎ TÜV VERIFICATION

In recent years, LLC was continueously developing and releasing CO2 laser cutting, engraving and patterning machines with larger working size, higher power and even easier operation without losing glittery good quality. Moreover, we were expanding our capabilities to produce compact FIBER laser machines for cutting metals as well as patterning, to catch all opportunities in highly growing segments of the market.

More
New Products